What is an iterative cycle?
An iterative cycle is a process that you can reuse to improve anything over time.
At our agency, in the context of concept and product design, we define six significant steps:
Evaluate: what's the problem at hand, and what do we wish to achieve?
Research: what works? What doesn't? How are others tackling this?
Prototype: which assumptions shall we put forward to test?
Create: the commitment to deliver a validated concept.
Launch! the moment of truth is the actual release of produced work in front of users.
Measure: now that the project is live, how is it faring? Is there room for improvement?
The iterative cycle in detail
The iterative cycle plays out past the planning phase inherent to all projects, and hopefully once a solid customer journey has been mapped out.
One iteration is indeed a single instance of the cycle, but one does not run an iteration without purpose. The more clearly you define what you want from each iteration, the better the feedback and the value you'll receive from each cycle. Thus allowing the next iteration to be at least marginally better than the last.
What do you want?
The first stage is to evaluate and really understand what does the client want to achieve with the project. For example, if a client says they want a chatbot, then that is not all that they are looking forward to. The chatbot must fulfill an objective. Is it to provide support? Is it to entertain or demonstrate new tech? The idea at this phase is to figure out what is the measure of success for the project.
Managing expectations
To continue with our example, the client states that the chatbot must provide timely support. In that case, the measure of success could be decreasing the amount of unhappy customers during peak support hours. If the chatbot leads to less complaints and shorter waiting times, then the project is a success.
Working this way also helps you decide on priorities: the chatbot may not be pretty, but if it fulfills the agreed metric, then it's good enough for now — that is, you can always iterate on this later, and focus instead on a Minimum Viable Product (MVP) right now. Thus you can eliminate any unnecessary discussions and future questions brought up which do not pertain to the measure of success.
Research and analyze
Once the strategy is in place, the conceptual work can start, its goal being to nail down the appropriate business logic and approach that will be required to achieve the objective. We begin by answering the following questions: how do users deal with this problem today? Is there a solution in place today? Was it a success or a failure? What are the statistics? This is all done to figure out what works, what doesn't, and how does the target audience tend to react. The end goal of this phase is to craft a Unique Value Proposition for the service or product at hand, and it is easier said than done. To this end, the research phase explores different combinations to find the direction of the project.
To continue on our simple example, if a chatbot is found to have a better response rate in mobile phone users, then the design should account for the appropriate layout, tone of voice, and capabilities of this device.
Prototype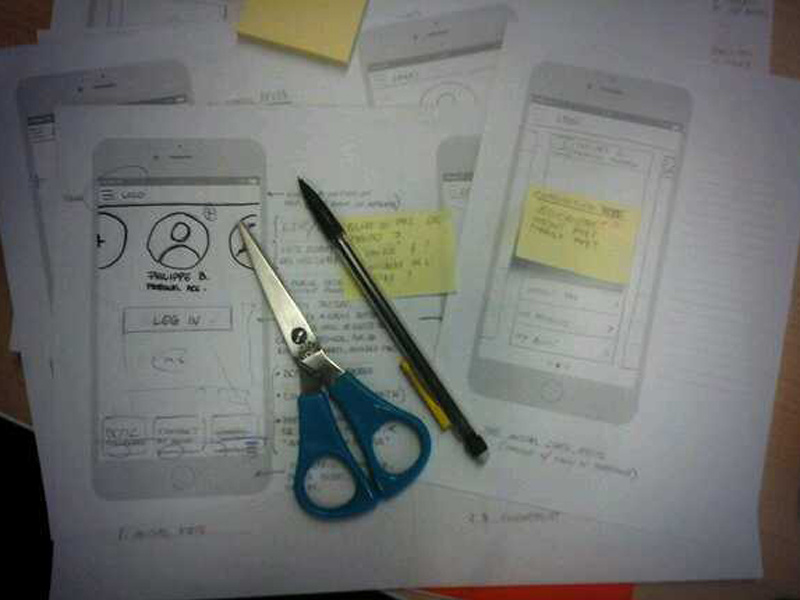 Once you start getting your assumptions and ideas in place, then you must prototype it quickly in order to test with users as soon as possible. At this stage, I personally swear by paper prototyping. Instead of spending lots of time designing or coding high fidelity mockups, graphility believes in testing the core concept first in order to assess understanding and reaction.
As humans, we tend to believe everyone experiences reality the same way we do. Early testing allows designers to confront their view of the world with the users' view, so as to eliminate such biases. Early testing is a highly empathic, insightful, and enriching experience.
Unexpected results surface often. For example, in one instance of a credit flow for professionals, the flow proposed was considered too short for a professional credit demand: "too good to be true" turned into distrust. The users felt the flow was probably a scam and felt more secure in their demand with a longer flow of more detailed questions. This is really about understanding the perception of the target audience in the right context.
Varying prototypes
Depending on your experience and approach there are variations in prototyping. Many visual designers prefer playing around in Sketch or other digital tools to create their prototypes. The advantage of having a paper prototype at the initial stages is to avoid wasting time in the tool when the design has not cristallized. Simply put, we're not there yet. A paper prototype is more flexible, and encourages a discussion that has much more value than its final execution. With a discussion, you can uncover the thoughts of another person to know what exactly she wants, and in which direction is she thinking. You can always decorate these findings at a later stage. But getting to the bottom of true needs, wants, and pains is key.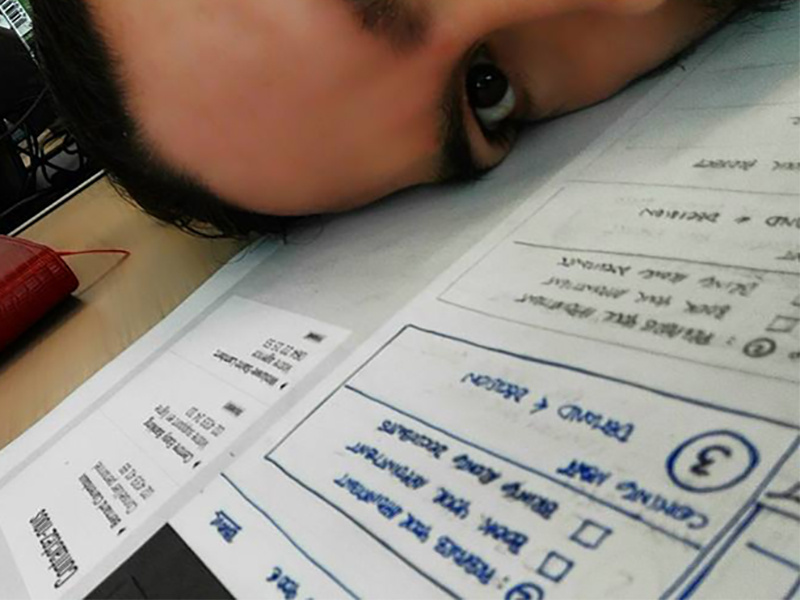 Creation
Once you have tested your prototypes thoroughly, you begin with the actual implementation of the concept. The designer next delivers wireframes or mockups, translating the outcome from prototypes into static screens. The development team takes it from there. Front-end devs code the screen application while the back-end create the underlying APIs and service calls. This is a whole team effort.
Launch and measure
Now the product is ready for delivery. But the improvement process is a continuous one. For example, adding analytical tags to chatbot answers to study their prominence in a real situation. In an iterative cycle, a launch is not the end of a project. Hence you launch a project in the open and continue on the enhancements. Even if the prototyping phase has been thoroughly tested, you can always expect surprises. Here we start collecting data from customer feedback and measure on the metrics.
Hence once again you have a new set of assumptions and what to dos and not to dos. The motion is set for the next iteration.
Final thoughts on the iterative cycle
Inherent versioning
An iterative cycle ensures that newer iterations are incrementally improved versions of previous iterations. Moreover, if a new iteration breaks a system, a previous iteration can quickly and easily be implemented or "rolled back," with minimal losses. This is a particular boon for post-release maintenance or web applications.
Rapid turnaround
It may seem like each stage of the iterative process isn't all that different from the stages of a more traditional model like the waterfall model. But the beauty of the iterative process is that each stage can effectively be slimmed down into smaller and smaller time frames; whatever is necessary to suit the needs of the project or organisation. While the initial run through of all stages may take some time, each subsequent iteration will be faster and faster.
Suited for Agile organizations
While a step-by-step process like the waterfall model works well for large projects with great risks and clearly defined scope, the iterative cycle shines in the hands of Agile teams where discovery and improvement over time are not only allowed, but encouraged.
Easy adaptability
Hinging on the core strength of constant, frequent iterations coming out regularly, another primary advantage of the iterative model is the ability to rapidly adapt to the ever-changing needs of both the project or the needs of the client. Changes to the underlying services or design occur within reasonable time frame and costs. This is because any damaging changes can be quickly recognized and therefore adjusting or reverting the course accordingly.
I hope this introduction to the iterative cycle helped you get a better understanding on a now ubiquitous process in design, development, and manufacturing. Incidentally, this is our way of working with all our clients. Your questions or comments are welcome!
Further reading: